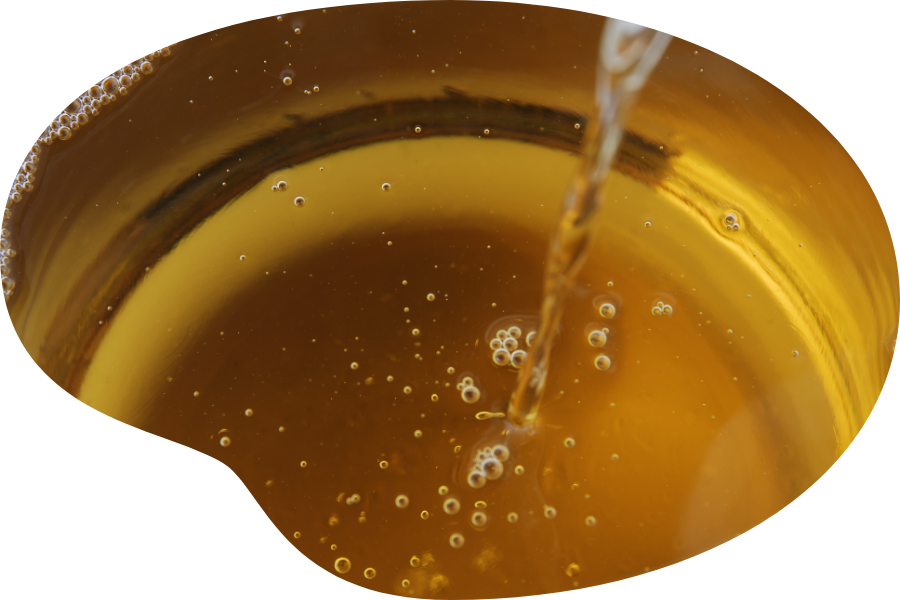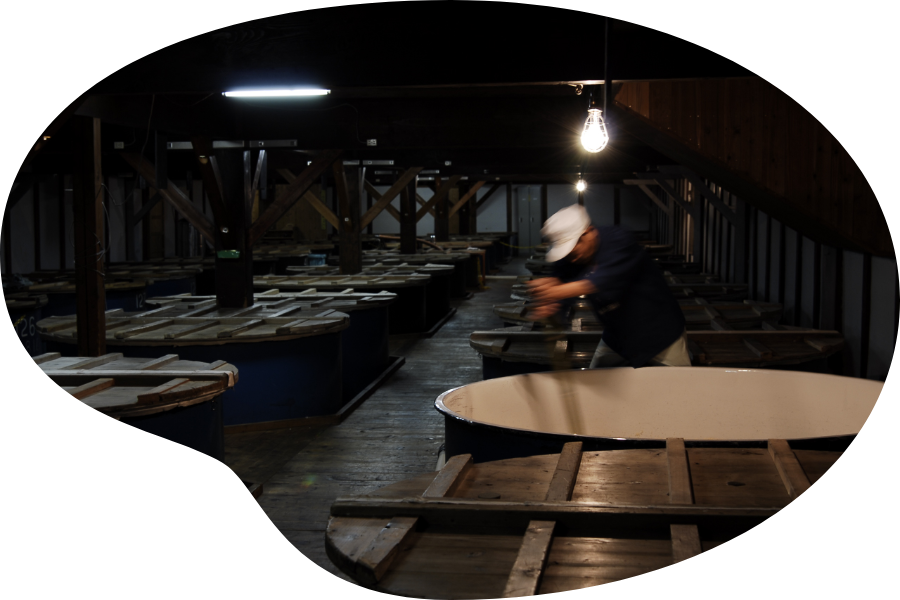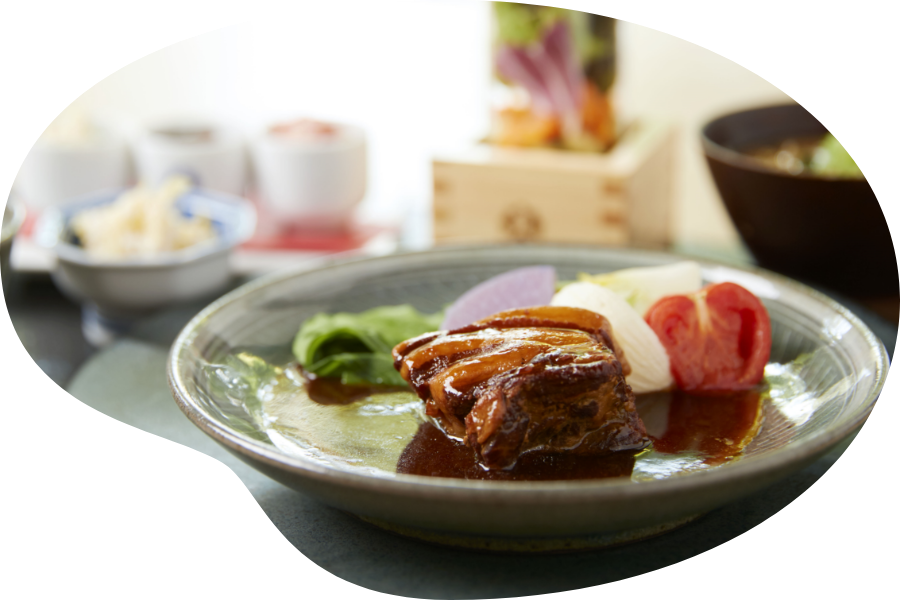 Almost 250 years
since the Edo Period
We have continuously upheld the authentic flavor passeddown from the time of our founding with our guiding principleof creating "An unchanging flavor amid changing times".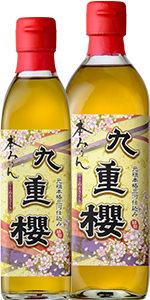 What is "hon mirin"?
"Hon mirin", or "true mirin", is a condiment especially essential in teriyaki sauce as well as the slow-cooked foods and other dishes in Japanese cuisine. Hon mirin is made using glutinous rice, koji rice, and shochu liquor as its raw ingredients and is abundant in the glucose and amino acids found in rice. As a fermented product like soy sauce and vinegar, it complements soy sauce and other fermented condiments well and synergistically brings out the true flavor of ingredients. It can be used as a secret ingredient in Chinese or Western cooking as well as Japanese cuisine.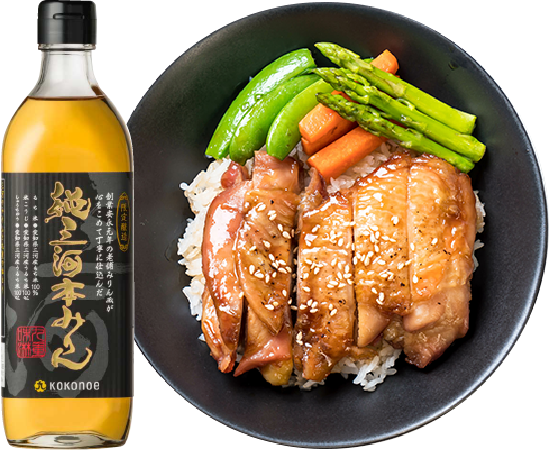 The differences between

hon mirin

and

sugar
While sugar is made from sugarcane and sugar beets, hon mirin is created by squeezing a fermented mash made from glutinous rice, koji rice, and shochu liquor. Though the sweetness is comparable, mirin is a healthier ingredient with its variety of rich nutrients.
About Kokonoe Mirin
Established in 1772, Kokonoe Mirin boasts a history of nearly 250 years as a mirin manufacturer. Since Japan's Edo Period, we have meticulously and mindfully hand-crafted our mirin, passing down the traditional process to our generations of craftspeople for an enduring flavor of yesteryear.
The entrance to the mirin brewery, displaying the Kokonoe Mirin signboard above

Mindfully creating mirin through careful, manual craftsmanship.

The mixing area of raw ingredients with a giant cauldron in the background in which glutinous rice is steamed
The oldest mirin warehouse in Japan
Our Main Warehouse is where we age the mirin collected from squeezing the fermented mash. Originally constructed in 1706, it was moved to its current location of Hekinan City, Aichi Prefecture in 1787, and enjoys a long history of 300 years.

Kokonoe Mirin's Main Warehouse, a national registered tangible cultural property, and the rest of the brewery
The secrets to Kokonoe Mirin in
numbers
There are secrets to how Kokonoe Mirin has enjoyed its reputation for delicious mirin spanning almost 250 years and the decades of continued patronage by so many chefs.
Delicious because of good ingredients

Our ingredients are

100%

produced in Japan(excludes some products)

Delicious mirin comes from quality ingredients, which we are adamant about. We squeeze a fermented mash made from quality, domestically grown glutinous rice; koji rice specially suited to mirin brewing; and shochu liquor specially selected for its rich aroma. The ingredients are so sound that even the wonderfully colorful and aromatic mirin lees, the by-product from squeezing the mash, can be used as top-quality seasoning for pickles and other foods.
Delicious because we're thorough

It takes

approx.

1

year to make mirin(excludes some products)

Delicious mirin is the product of careful craftsmanship—and that's how Kokonoe Mirin makes its products. We employ the traditional process of taking two days to squeeze our mashes, having fermented for two months. The resulting hon mirin is then left to quietly age for a period of half a year to a full year in the Main Warehouse. The thoroughly squeezed mirin is thoroughly aged, resulting in a crisp and spot-on flavor with a deep sweetness.
Delicious because of consistency

Kokonoe Mirin boasts

a nearly

250-year

-year history

Delicious mirin is the result of a consistent brewing process, and that is the reason why we have been able to continuously maintain the Kokonoe Mirin flavor. We spend incredible time and effort in managing the product quality of our traditional brewing process. Each of the Kokonoe Mirin craftspeople pay the closest attention possible to ensuring that the product is created in the same location in the same warehouse, manufacturing it in as consistent an environment as possible year after year.
Products
The genuine article for a constantly exceptional flavor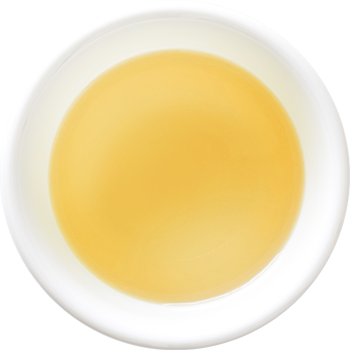 Kokonoe Sakura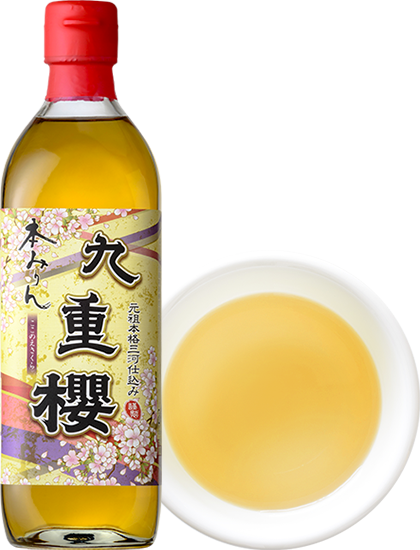 Our hallmark product, chosen by the chefs
of Michelin Star restaurants
Kokonoe Sakura, our signature product, has been around since the Edo Period. It is our hallmark product and is brewed using only carefully selected, domestically produced glutinous rice, koji rice, and genuine rice-derived shochu liquor and through traditional techniques employed since the time of our establishment. The natural sweetness and robust aroma from glutinous rice as well as the rich flavor components give dishes an exceptional flavor. This hon mirin is even selected by the fastidious chefs of high-end Japanese restaurants and other eateries.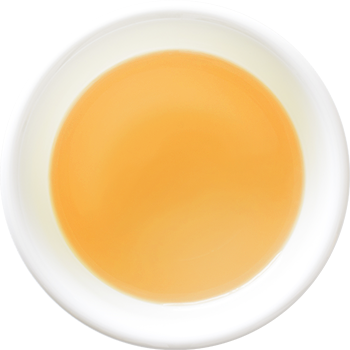 Genuine Mikawa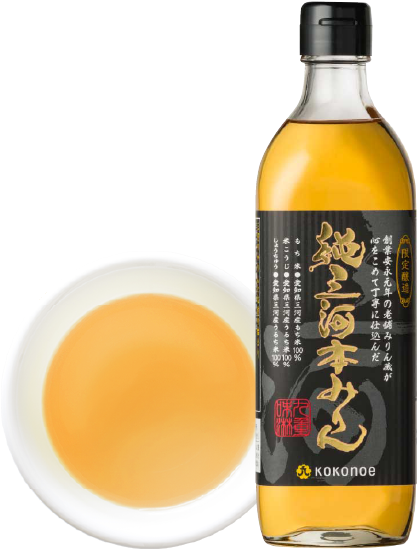 A premium hon mirin produced only
in Aichi Prefecture's Mikawa region
This hon mirin places a special emphasis on its raw ingredients⁠—glutinous rice, koji rice, and shochu liquor⁠—produced in the Mikawa region of Aichi Prefecture. Hekinan City, located in the Mikawa region, is known as "the City of Brewing" and is home to a number of manufacturers brewing such condiments as soy sauce, vinegar, and white soy sauce soup stock in addition to mirin.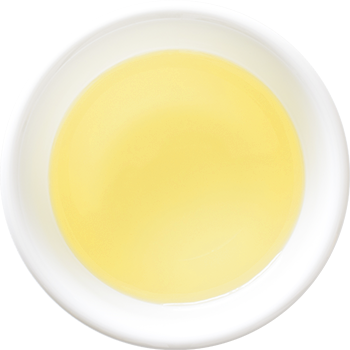 Purely Japanese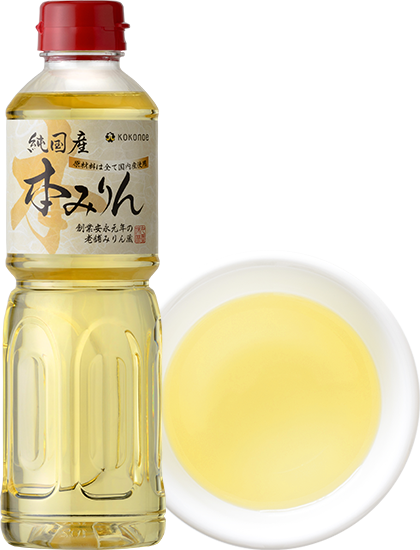 Reasonably priced, convenient hon mirin
Purely Japanese hon mirin is made from 100% Japanese raw ingredients—from the glutinous rice to the sugars. This product comes in an easy-to-use plastic bottle, and using shochu liquor as a raw ingredient, it offers an incredible odor masking effect.
Delicious mirin recipes
Try some of these simple, delicious recipes using hon mirin.
Inquiries
Please feel free to contact us with any questions or comments about our products.
Fill out the form below, and hit the "Send" button upon confirmation of the inquiry content.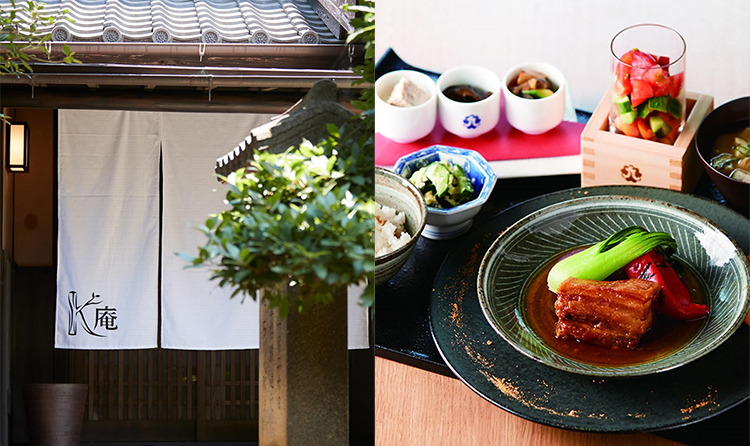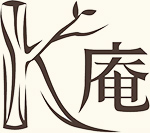 K-An Restaurant & Café
Enjoy a variety of dishes created
using Kokonoe Mirin's hon mirin.
Teriyaki chicken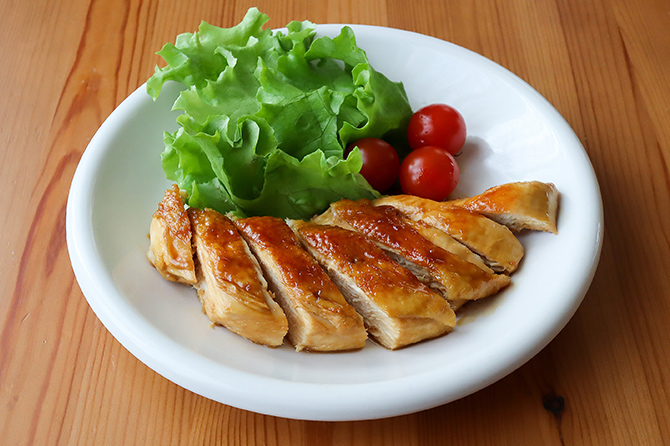 Ingredients (4 servings)
Chicken breast

400 g

Mirin

2 tablespoons

Soy sauce

2 tablespoons

Sugar

1 tablespoon
Directions
Fry both sides of the chicken breast in a fry pan.
Mix ingredients and pour into fry pan. Adjust heat and simmer sauce, continuing to cook the chicken in it.
Remove from heat once the chicken browns. (Pour remaining sauce over the chicken for a very savory appearance.)
Tasty white rice
Finishes with a lustrous appearance and a delicious sweetness.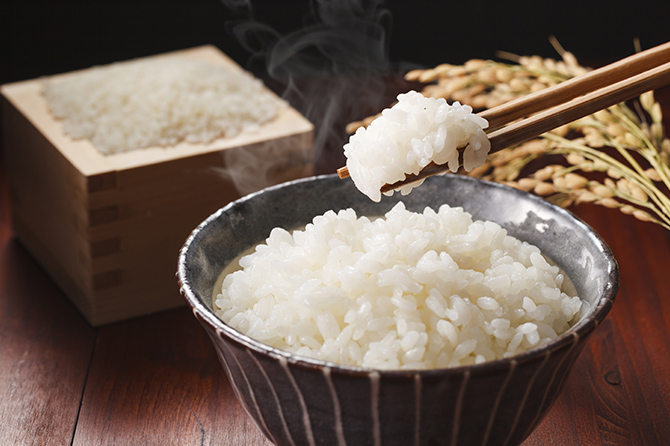 Ingredients
White rice

150 g

Hon mirin

5 cc

Water

As needed
Directions
Wash the rice with water.
Add mirin and water, and cook.